PA0NHC Main Index. 20210803
Some pages will be updated in the future, therefore :
To prevent showing old information, or broken links :

1. Never use (outdated) external links to my articles !!

2. Always START HERE at www.pa0nhc.nl and

3.
Frontpage will not work under Windows11.
I switched to WYSIWYG
Expression4 web
to build my site.
You can find all my HAM-articles on this site under these links :
| | |
| --- | --- |
| | 12 artikelen die ik in 2022 ter publicatie aan de redactie van Electron zond. |
| | |
| --- | --- |
| | HOE de levensduur van een Toyota automatische transmissie tot wel 700.000 km te verlengen. |
Youtube links to my video presentations :
pa0nhc 40/60/80m 400W transmitting loop.
Super wide band transformer matching.

De-noising of Linear Power Supplies.
The differences
between LPS and SMPS.

The sense and the NONsense about
magnetic transmitting loop antennas.

pa0nhc X-phase noise killer for one (plasma) noise source.
YouTube demo video.

English

=> The truth about <=
The similitudes and important differences between all Miniwhip (E-field) antennas and my
improved, balanced and screened
receiving loop (H-field) antenna.
INCLUDING :
The all important installation and
de-noising

Common Mode Chokes.

De geheimen onthuld van
mantelstoom smoorspoelen

en

De invloed van temperatuur veranderingen in Common Mode Chokes.

(Naar info van K9YC).

Nederlands
Deel1 Theorie 30min.

Deel2
Praktijk
19min.

Deel3
Voorbeelden
7min.

Pa0nhc active wideband H-field fully balanced receiving loop
15 kHz - 30 MHz.
NO antenna grounding!

Nederlands

De-noising of
Switched Mode Power Supplies.

Nederlands

English

Pa0nhc 80m-20m
Symmetrical coaxial dipole antenna
with coaxial END feed.
BETTER than an end-fed-wire antenna !
No TVI / BCI ! Low noise lvel.
2021 : New better CMC.

Pa0nhc improved version of the MINIWHIP active E-field antenna.
Installation and de-noising instructions for all active E-field antennas.

Nederlands

English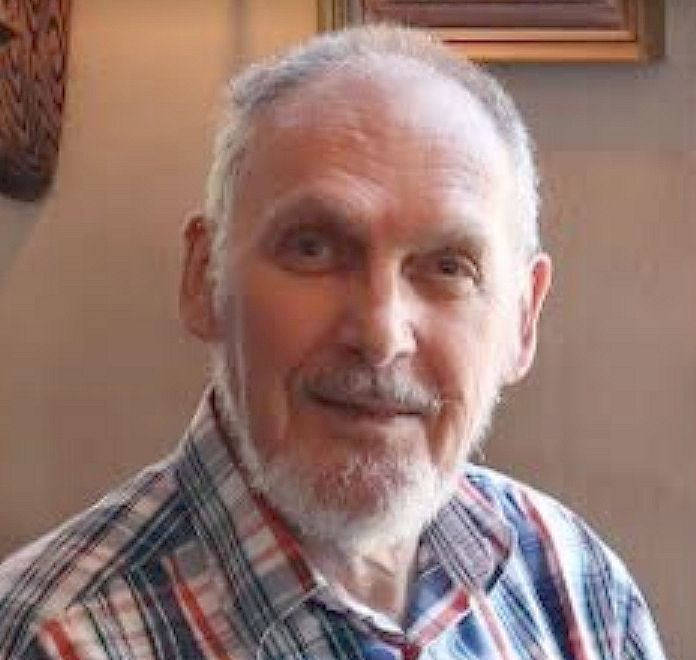 Nicolaas Hendrik Cornelis Johannes Veth
Radio amateur callsign : pa0nhc
Born march 29 1939 in Schiedam The Netherlands. VHF license technical exam in 1965
Full license CW exam in 1980.
QTH : De Meern (Utrecht) in the center of The Netherlands. GPS 52.084849, 5.013264
This site now exist for more than 25 years (.com /.net /.nl)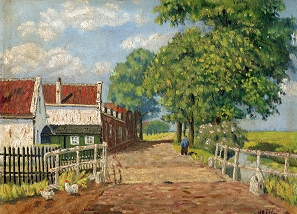 Schiedam, Oude Dijk. Painted in Ca. 1950
Crossing Damlaan and Oude dijk.
Painted on wood panel 29cm x 23cm
by my father Nico Verth.
Deze Oude Dijk was de allereerste begaanbare weg van Scheidam, en is bijna 860 jaar geleden aangelegd in 1165, Toen was deze plek al bewoond. Deze weg verdwenen onder het zand tijdens de stadsuitbreiding van 1960.

Geschilderd door mijn vader Nico Veth op 28x23cm triplex paneel. Mijn Opoe woonde in het laatste lage huisje. Tijdens storm loeiden de hoge bomen beangstigend. In 1942 (?) zag ik luchtgevechten tussen Engelse en Duitse jachvliegtuigen.

Het originele schilderij heb ik mijn ezit.
Het is gescand met een Epson ET-3850 in 600DPI, zonder correctie. Vooral in de wolken is er vervuiling zichbaar door tabaksrook.