<<

Pa0nhc ARDFRx80
(3.5 - 3.63 MHz portable amateur radio direction finder).
PCB version 20180128-16
v. 20180130 / 20181121 / 20190203
This design was published in Electron march 2019.
COPYRIGHT. The use, copy and modification of all info on this site is only permitted for non-commercial purposes and thereby explicitly mentioning my radio amateur call sign "PA0NHC" as the original writer / designer / photographer / publisher.
Tested by PA0DFN for use in Dutch ARDF competition.
Fully ANALOG design.
Fully balanced input : antenna + buffer + mixer.
Small, cheap internal ferrite antenna.
RF-filtered headphone output for accurate minimum bearings.
Very sensitive : during evening time the galactic noise is detectable.
Very selective (Xtal IF filter + hi-Q if coils).
Large sensitivity adjustment range (>= 90dB)
Positive, and adjustable sense action.
Only 18 to 35 mA current consumption (varies with the gain adjustment).
Stable reception until a 9V battery is really empty (5.5V).
Detailed component list with ordering numbers.
Detailed construction and adjustment texts.
Cheap and light ABS housing.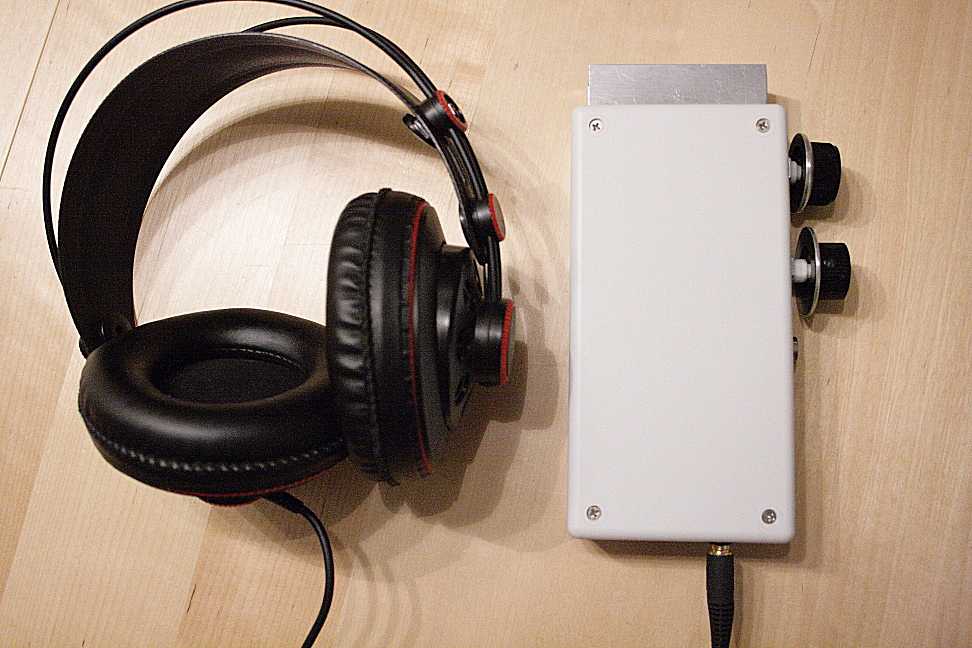 Easy to fill double sided RF designed PCB with wide holes. PCB 135x39mm
Important :
FIRST order all 7x7mm coils, with for each one extra, plus the trimming key.

This latest version PCB is adapted for using coils with different pinning.
Coils are becoming sold-out and more difficult to obtain. The "Details of coils" PDF gives coil alternatives.
Suppliers of wound coils:
buerklin.com
rf-microwave.com
haje.nl
Coil forms for winding coils yourself :
ges.cz
qrp-shop.biz
Pse DO SAVE and PRINT all the files below, as for this version valid documentation.
Study all info before you start to build.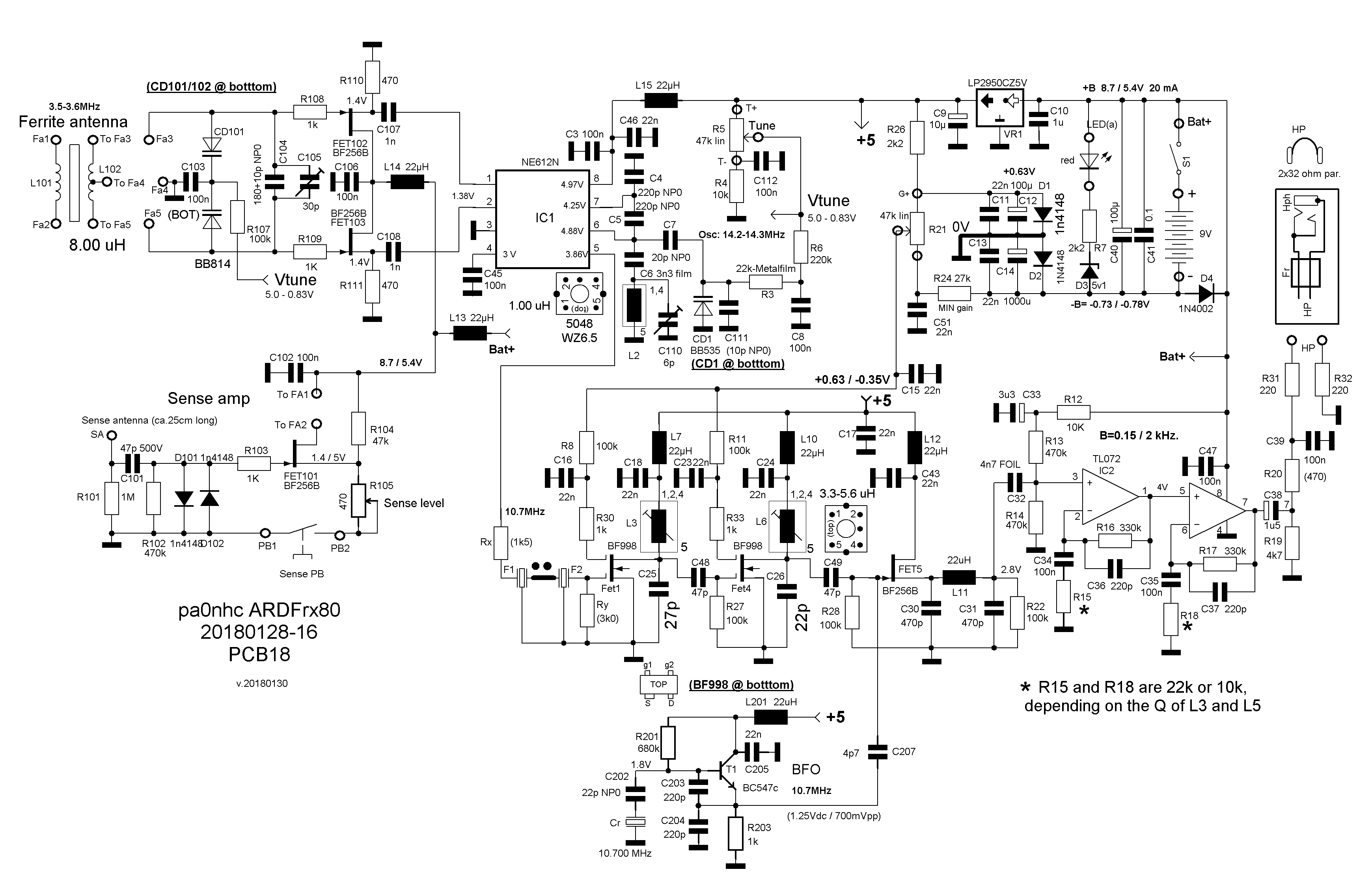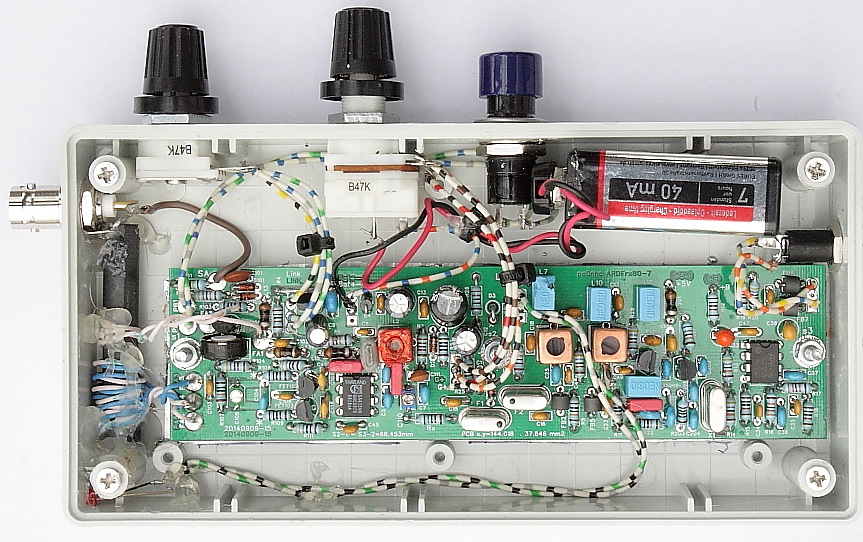 Older 80m prototype.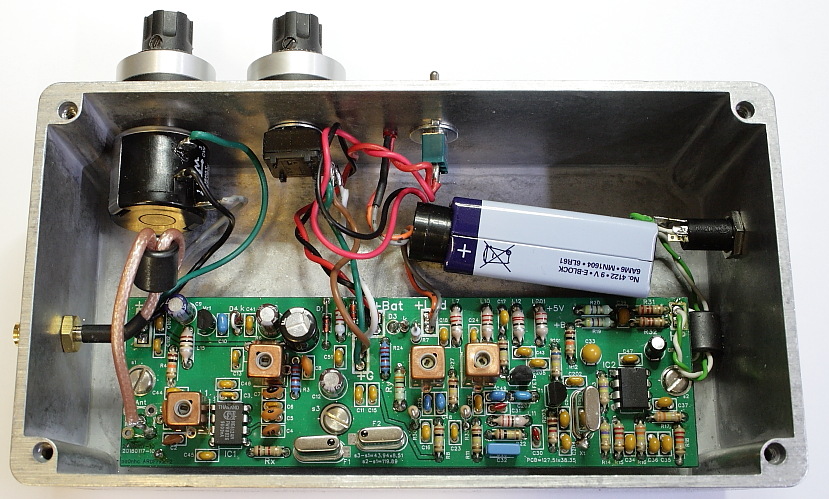 2m version build by PA0ADG.


Developments in time.

---