<<

Top quality 145MHz ARDF receiver pa0nhc ARDFRx2m.
Updates : 20141013-4 / 20210819
A redesigned, very sensitive and selective ARDF radio foxhunt receiver for the 145 MHz band.

The parts list is updated.
© The use, copy and modification of all info on this site is only permitted for non-commercial purposes,
and thereby explicitly mentioning my radio amateur call sign "PA0NHC" as the original writer / designer / photographer / publisher.
| | |
| --- | --- |
| New PCB V.20180123-14. 127.52 x 38.35 mm . | |
| | Fet1 and Fet4 not soldered yet. See mounting instructions. |
This latest version PCB is adapted for using coils with different pinning.
NOW FIRST download and print all info from the table below !
1. Download and save all PDF files below to your hard disk or to a CD (click-right - "Save target as ....")
2. Then open each file from hard disk in ADOBE PDF READER (download reader here https://get.adobe.com/nl/reader/ )
3. Then print each file at A4 paper with setting "Scale 100%".
4. Keep all prints as documentation for building, and service afterwards.
5. Read all info carefully before you start ordering components.
6. Before ordering PCBs, and before starting assembling, be sure to have obtained, and/or wound all coils.
7. Coils can differ in pin configuration. To correct : Remove the copper can, and turn the coil form in respect to the copper can.
8. Coil connections should be located in accordance to holes 5 and 1 on the PCB (see schematic).
---
1. This new PCB is re-designed for still available wound coils, and for by yourself to be hand wound coils.
2. External wiring connections are relocated, to enhance tuning stability.
3. An extra ground screw near the oscillator circuit is added for extra mechanical and tuning stability.
4. Connections can be made with with RM2.5 connectors, or wires can be soldered.

REM : The PCB is designed for a BF998 as FET1 and FET4. A BF998R can also be used, but must be soldered upside-down. (Wide leg = S).
They are soldered at the bottom side of the PCB.

Important : Start ordering components by ordering all 7x7mm coils.
Order for each type at least one extra.
Order also the special, exact fitting trimming key. Using a wrong key ends in broken and not turn able cores => replacing coils.
Suppliers of some wound coils (5056) : rf-microwave.com (Italia), haje.nl
---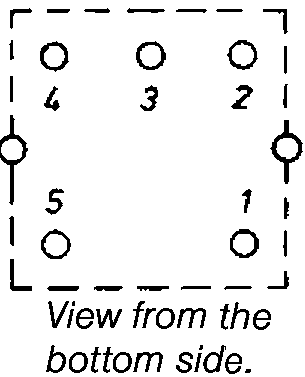 You can also wind coils yourself. Then order 7mm / RM2.25 coil form sets.
Here are my winding details for making coils equivalent to official Neosid coils :
For both 10.7 MHz IF coils (Start=1, end=5) :
Order coil set 7F1S or 7F1K (core material F10B)
Wind 321/4 turns 0.2mm, for an equivalent to Neosid 5044 = 3.3uH, Q=45 @ 10MHz.

For the VHF input and VHF oscillator coil (Start=1, end=5) :
Order coil set 7V1S or 7V1K (core material F100B).
Wind 31/4 turns 0.5mm, for an equivalent to Neosid 5033 = 68 nH,
or
Wind 41/4 turns 0.5mm, for an equivalent to Neosid 5061 = 115 nH.

European coil set suppliers and detailed Neosid coil info :
ges.cz radiovilag.hu amidon.de qrp-shop.biz<= from Switserland, import tax !
---
20210808 Possible IF instability :
If after adjustment of the IF coils, and then adjusting the gain potentiometer to max sensitivity, plopping and/or "Motor-boating" sounds occur, the cause can be :
1. insufficient decoupling of IF power circuits, due to the used 22n type capacitors,
2. or the series resonance of the used chokes types L7, L10 and L12,
3. or the Q of the used IF coils L3 and L6.
If so, you can improve the IF power line decoupling to Fet1, Fet4 and Fet5 as follows :
Solder at the bottom side of the PCB, one extra 22nF ceramic RM2.5 small size capacitor,
with minimal wire lengths,
directly in parallel to C18, to C24 and to C43.
Check the soldering quality, especially of the ground connection.
REM : Overheating and mechanical stress can cause damage to small ceramic capacitors.
---