<<

The ferrite antenna.
pa0nhc 20161220
20180116
Broadcast receiving antenna ferrite rods are NOT suited for this design.
Especially suited ferrite rods are : Amidon R61-050-400 (100mm long) or R61-050-750 (190mm long).
They can be used from 100 kHz up to 21MHz, and are available at :
"amidon.de".
"alltronics"
eBay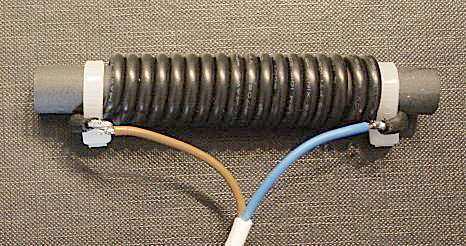 L1. For the 80m band :
Wind 18 to 22 turns insulated thick wire over a length of abt. 72mm on a Amidon R61-050-400 ferrite rod.
The coil ends must be cut off very short, and temporarily fixed onto the ferrite rod using TyWraps (R)..
Adjust the coils self inductance to 20 uH as follows :
Temporarily solder a test capacitor 100pF 1% with long legs, directly onto the connections of L1. This test combination should resonate at 3.50 MHz. Check it using a GDO.
You can fine-adjust the coils self inductance, by adjusting the separations between all windings (the total coil length will change too). All windings should have equal separations.
If the resonance frequency is still to low, remove one turn.
If the resonance frequency is to high, wind a new coil wit one or two turns more.
Once finished, fix the coil windings and ends to the ferrite rod with two component glue or heath glue.
This could be done using one stripe of glue over the full length of the coil and ferrite rod.
Remove the 100pF test capacitor.
Connect a thin twin lead or twisted wire pair.

Prototype with balanced antenna coil.
The antenna coil fits inside a 32mm PVC pipe.
- First put the connecting wires in this 32mm pipe, after into the 50mm housing pipe, through a small hole in it.
- Put soft plastic foam over the ends of the ferrite rod. It must guard the rod against breaking.
- Shift the ferrite rod into its 32mm pipe.
- Close the 32mm PVC pipe water tight with end caps.
Make the wires just long enough to be able to lift the antenna PCB just far enough above the housing, to be able to tune the antenna circuit with C11.
- Cut the connecting wires to length.
A coil for other frequency bands.
The specified ferrite rod can be used up to 21MHz. When used outside the 80m band, L1 must get another value of self inductance, hence number of turns. For instance 13 turns or 9 turns for 7MHz or 14MHz. Divide all turns equally over abt. 70mm rod length.

You also can adapt the capacitance values of C12 and C12a, and the tuning voltage range.
---